Options and Prices in USD
Model
Fits
Caster choices (all double locking)
Plastic/rubber
w/
Ball bearing
Aluminum/polyurethane w/
Ball bearing
Galvanized steel/rubber
Needle bearing
75mm
80mm
100mm
125mm
80mm
100mm
125mm
ScopeRoller
S
Meade LS-8, Berlebach Report
130.00
162.30
166.36
182.30
142.31
144.43
148.00
ScopeRoller
40
(up to 1.5in
max diameter)
OptiMini, Losmandy GM-8
Synta EQ-3, Celestron: 93494,
93497and Nexstar, Meade ETX,
Orion Skyview Pro
130.00
163.30
167.35
183.30
143.31
145.43
149.00
ScopeRoller
50
(up to
1-31/32in max
diameter)
iOptron Minitower, Synta EQ-6,
Meade: LX200, LXD 55 and 75,
RCX 400 and 2080,
Celestron: 93493, 93497, AVX,
CGEM, and CPC 1100
Sirius EQ-6, Orion Atlas EQ,
Not
recommended
due to weight
limit.
166.00
170.00
186.00
146.01
148.13
151.70
ScopeRoller
70
(up to 2-3/4in
max diameter)

Takahashi EM-400, Losmandy
G11, Meade Giant Field,
Celestron: Super Heavy Duty,
CGE 1100, CI 700, AVX Large Leg.

Not
recommended
due to weight
limit.
172.30
176.35
192.30
152.31
154.43
158.00
Additionally Supported Tripods
ScopeRollerTM VSQ for the Vixen AL150, AL130, AL90 and PORTA tripods and some of the Meade LXD-55 tripods (the ones with the square legs).
ScopeRollerTM TakEM100 for the Takahashi EM-100 tripod.
ScopeRollerTM VHAL110 for the Vixen HAL-110 tripod/Vixen HAL-130 tripod..
ScopeRollerTM OptPier for the iOptron Pier.

One of my customers sent a picture of of his scope mounted on ScopeRoller Deluxe5 casters--and some long exposure astrophotos he took--more than two hours. You tell me: are these good enough?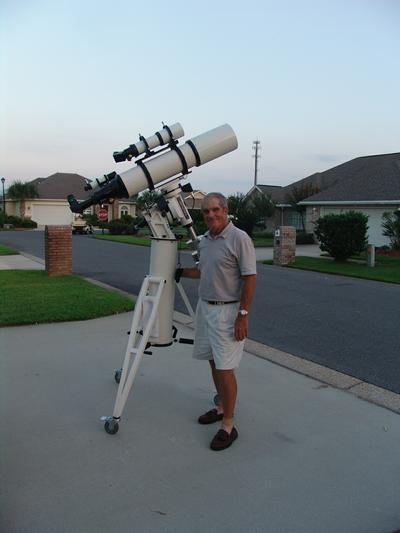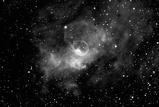 click to show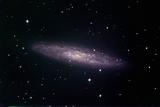 click to show


click to show
Here's another satisified customer:
"I'm still having very good success with the ScopeRollers. While I still have to polar align each time out, the benefits of having my entire rig mobile is awesome. I can set up in a fraction of the time as before, and break-down is as simple as rolling everything back into the garage - 4 minutes flat and I'm in bed for the night! Autoguiding is as good as I've ever had, so I know the ScopeRoller platform is stable. Here are two images taken with the casters in place:
http://www.astrobin.com/37359/
http://www.astrobin.com/35435/B/"
Caster choices
ScopeRoller products offer seven choices of caster.
Installation
Here is Mr. Cramer installing a caster set on a Losmandy G11 tripod.
Speed of Setup
Here is Mr. Cramer demonstrating the speed of putting his scope in action.
Vibration
What about vibration in the casters? Remember that rigidity sometimes increases vibration--having a little play between the caster assemblies and the inside of the tripod legs doesn't necessarily create a problem. Some customers have actually reported less vibration with the casters unlocked. If you need absolute rock solid rigidity for your five hour exposures of Pluto, this may not be the best choice. In general, I don't see that ScopeRoller adds any vibration to an existing mount.
Advantages and Limitations
The obvious advantage of the ScopeRoller product is ease of use. Right now, you have to take your telescope tube off the mount, disconnect cables, carry all the parts outside, and then reassemble. At the end of the evening, when it is cold and dark, and you are cold and tired, you have to repeat the process. With ScopeRoller, you just roll your telescope outside--and at the end of the evening, you just roll your telescope back inside.
There are some limitations, however. ScopeRoller raises the height of your telescope by a few inches, and for some observers, that may be the difference between standing at your telescope, and needing a stepstool. Of course, moving a stepstool out is still a lot easier than disassembling your telescope every time you want to use it!
Raising the height of your telescope also means raising the center of gravity--so you need to be a bit more careful to make sure that you don't tip it over while moving it. Hold onto your telescope fairly low, and make sure that you don't get one wheel caught on a sidewalk divider or a rock. Of course, if you take everything apart and carry it outside, you might trip and drop your tube or mount also....
Instruction sheets for every product are available online, listed under each product.
Our Competition
At the current time, we have two competitors: JMI's Wheeley Bars, and ScopeBuggy. We haven't actually used either product, so what you see here is what we hear from our customers who have bought those products--and then bought ScopeRoller. Depending on your needs, you may want to buy the JMI product, or the ScopeBuggy product--or ScopeRoller! We want you to buy the right product for you, instead of buying ScopeRoller, and being disappointed because it doesn't satisfy your needs.
If you need to transport your scope across very rough ground, the ScopeBuggy or the JMI Wheeley Bars with the 10" wheels is probably a better choice than ScopeRoller. ScopeRoller is really better suited to smooth surfaces--although the Deluxe wheels will work okay on grass and relatively smooth dirt.
If you have several different telescope tripods of about the same size, the JMI or ScopeBuggy products may be a more cost effective solution, because you can use the JMI Wheeley Bars or ScopeBuggy for several different tripods. ScopeRoller is specific to a particular tripod. ScopeRoller is much less expensive than the JMI and ScopeBuggy products, so you might find that buying two ScopeRoller sets is no worse than buying one ScopeBuggy or JMI Wheeley Bar.
A number of customers have pointed out that the JMI and ScopeBuggy products, because they use a large frame to hold the wheels and the tripod, can sometimes block getting as close to the telescope as you would like--and if you aren't careful, it is possible to trip over that frame in the dark! ScopeRoller doesn't change the "footprint" of your telescope, and never prevents you from getting close to your telescope or mount.
The JMI Wheeley Bars have leveling screws, and this may be an advantage in certain circumstances.
The ScopeRoller solution weighs less than ten pounds (sometimes as little as three pounds), so you aren't paying a lot of money for shipping. The shipping charge for our competitor's products can be quite substantial.